Attention A T users. To access the menus on this page please perform the following steps. 1. Please switch auto forms mode to off. 2. Hit enter to expand a main menu option (Health, Benefits, etc). 3. To enter and activate the submenu links, hit the down arrow. You will now be able to tab or arrow up or down through the submenu options to access/activate the submenu links.

VHA National Center for Patient Safety
Psychologist aims to make mental health units safe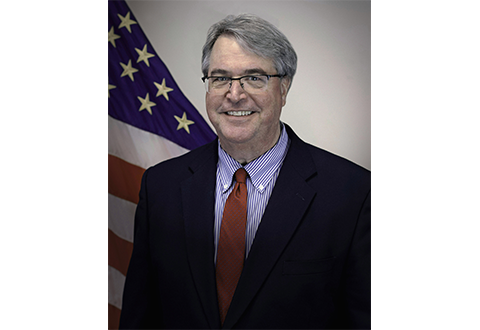 Monday, November 26, 2018
Have all fitted bedsheets with elastic at the corners been removed from the unit? Have all privacy curtains and tracks been removed? Are the grab rails installed around the toilet and shower the type that prevent material from being wrapped around them?
Most people looking at a hospital room will see an environment specifically designed to keep human beings alive through even the most traumatic circumstances. Peter Mills, PhD, sees a room that, for someone contemplating suicide, presents a host of opportunities to achieve that goal.
Are light fixtures securely mounted to the ceiling with inaccessible fasteners? Are doors on closets removed? Check all ceiling tiles semi-annually to make sure they can't be removed.
Mills joined the VA as a psychologist in 1994, tasked with running the inpatient post-traumatic stress disorder (PTSD) program at the White River Junction VAMC in Vermont. It was during Mills' tenure there that VA began to form its National Center for Patient Safety (NCPS), which officially opened in 1999. Headquartered in Ann Arbor, MI, it was given the mission of forming a culture of safety across the VA.
White River Junction started as a research program site for the NCPS, becoming a field office in 2002. Mills was appointed director.
"With that, I had the opportunity to do more national work in patient safety and suicide prevention," he explained.
In 2006, NCPS formed a performance measures working group to look at the standards by which inpatient mental health units would judge their safety levels. What they found was that, at the time, there were none—at least not specific ones applied nationally.
"Back in 2007, Veteran suicide was and still is a very important issue. And at the time, it was getting worse," Mills said. "There were 4.2 suicides for every 100,000 admissions into an inpatient mental health unit. They asked our office to develop a checklist that folks could use to make sure everything was as safe as possible."
In response, he recruited a committee of doctors, nurses, technicians—anyone who had front-line experience caring with patients in that kind of setting. Item-by-item they began to create what would become the Mental Health Environment of Care Checklist. The goal was to make rooms in inpatient mental health units as safe as possible, even for the most suicidal patient.
Are paper towel dispensers free of all anchor points? Are mirrors shatterproof? Is the water temperature limited to a maximum of 110 degrees?
Mills and his team weren't working from scratch. VA has a database of root cause analysis reports from every suicide attempt or death on every unit from the year 2000 on. They knew from hard experience how creative suicidal patients can be.
"Mental health unit patients might be actively suicidal. It's not a passive thing. That time of their lives might be short, but during that time you have to hold them and keep them safe," Mills explained. "The highest hazard areas are the more private areas—bedrooms and bathrooms. Anywhere a patient is alone for long periods of time. That's where we focused."
The most common method of patients hurting themselves in an inpatient setting is through hanging, so much of the checklist quickly became devoted to removing anything that could be used as an anchor point. "You think of someone hanging themselves from the ceiling, so you look at removing pipes, but half of anchor points are below the head—doorknobs, drawers, things only 18 inches from the ground," Mills declared. "All of those things had to be modified or removed."
That modification wasn't always an easy process. Mills made sure that engineers were part of the working group—professionals who understood how the mechanics of a room functioned and how items can be modified to prevent misuse.
"A regular doorknob is a pretty simple device. But most of them—you can hang yourself on that. It's a sturdy thing, and it can hold your weight," Mills said. "Manufacturers have begun creating doorknobs you can't tie-off on. We tried different kinds to [find the one that worked best]. But that's a specialty item, and it's an expensive thing. We also order specialty beds, specialty shelving, specialty furniture with limited or no anchor points. Furniture in the day rooms are heavy and filled with sand so folks can't pick it up. Window glass is reinforced."
In identifying the best furnishings and products, it can become a balancing act between safety and sturdiness, Mills noted. "You want things that are sturdy items for a busy mental health unit that can take some abuse, but that you also can't hang on." The first version of the checklist was a recommended tool that units nationwide could use. But because Veteran suicide was such a high-priority problem, VA Central Office quickly mandated it nationally. Mental health units were required to go through their units every quarter using the checklist to ensure everything was as safe as possible.
If there were areas that didn't meet the checklist's recommendations, that hospital would create an improvement plan with concrete action items on how the unit would meet those standards. Units nationally quickly transformed themselves, and the quarterly sweeps of rooms became semi-annual in 2010.
"I've been on it ever since its creation, riding herd on things, adding new checklist items as issues come up we've never heard of," Mills said.
And the checklist, Mills noted, is certainly working. The latest numbers show that the suicide rate in inpatient mental health units has dropped to .74 per 100,000 admissions.
That drop in suicides has garnered attention from hospitals outside VA. Currently the NCPS is working with hospitals in Alberta, Canada, to modify the checklist for their facilities, and VA is open to helping other private or state hospitals implement the program.
But even a rate of less than one suicide a year on mental health units is too high for Mills and his team, who are always looking for ways to improve safety. "We're thinking about what an ideal unit would look like if you couldstart from scratch and build it from the ground up," Mills said. "If somebody kills themselves on a mental health unit, that's on us. It should never happen."
This article originally appeared in U.S. Medicine.
return to top