Attention A T users. To access the menus on this page please perform the following steps. 1. Please switch auto forms mode to off. 2. Hit enter to expand a main menu option (Health, Benefits, etc). 3. To enter and activate the submenu links, hit the down arrow. You will now be able to tab or arrow up or down through the submenu options to access/activate the submenu links.

VHA National Center for Patient Safety
Mental Health Environment of Care Checklist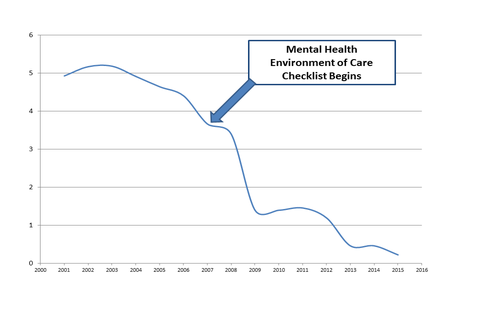 Thursday, September 8, 2016
Peter D. Mills, Ph.D., MS, director, VA National Center for Patient Safety Field Office, White River Junction, Vt.
In 2013, suicide was the tenth leading cause of death in the United States.1 In 2013, 41,149 people killed themselves and over 494,169 people with self-inflicted injuries were treated in U.S. emergency departments.1 Among Veterans we see approximately 20 deaths from suicide per day in the U.S. and five deaths from suicide per day among Veterans receiving care in VHA. There is a 42 percent increased risk of suicide among users of VHA services compared to rates of suicide in the U.S. general population.2 In 2003, the American Psychiatric Association reported that approximately 1,500 completed suicides take place in inpatient hospital units in the United States each year and, despite focused efforts, one-third of these take place while the patient is on 15-minute checks;3 in a recent review Sakinofsky found the rate of inpatient suicide internationally to be between 1 and 4.5 per 1,000 inpatient discharges.4
This article describes the development and implementation of the Mental Health Environment of Care Checklist (MHEOCC)5 designed to review the environment of care in mental health units and identify environmental hazards associated with increased suicide risk. We chose to institute the use of a checklist so that those approaches and techniques that we identified to possess value could be standardized across all VA facilities. This was a conscious decision to depart from the traditional health care approach of inconsistently disseminating mitigation strategies by means that often involve oral communication or peer reviewed publications, and then hoping that staff would employ them. The use of a checklist is an explicit effort to reduce ambiguity of communication and implementation to mitigate patient risk and improve care.
In the summer of 2006, a confluence of two events occurred: The VA National Center for Patient Safety (NCPS) completed a review of all root cause analysis reports of inpatient suicides and serious suicide attempts6 and senior leadership recognized the need for greater national standardization in inpatient psychiatric units. A multidisciplinary committee was formed, charged with the task of developing a checklist to be used to identify environmental hazards on acute mental health units treating suicidal patients. The committee developed both general guidelines to be applied to all areas of the psychiatric unit, and detailed guidelines for specific rooms, such as bathrooms, bedrooms and seclusion rooms. The criteria for the checklist were based on both the data collected from Root Cause Analysis reports6 and the extensive experience of the committee members. In addition, a second system was developed to rate each identified hazard for the level of risk on a scale of 1 to 5: "1" represented minimal risk and "5" represented critical risk requiring immediate abatement. Drafts of the checklist were extensively pilot tested in VA hospitals during the spring and early summer of 2007.
In August 2007, as a result of actions taken by VA leadership, use of the checklist became mandatory in all VA mental health units treating suicidal patients. Every mental health unit in the VA system was required to form a Multidisciplinary Safety Inspection Team (MSIT) consisting of a suicide prevention coordinator, patient safety manager, facility occupational safety manager or specialist, psychiatric unit nurse manager, a non-psychiatric unit nurse manager, psychiatrist, mental health worker (e.g., an out-patient case manager, therapist, or psychology tech.), representative from engineering, and a representative from environmental services to review the unit on a quarterly basis. The teams were required to submit a list of all identified hazards – along with their plans for abatement to their facility directors and to a national database maintained by the Center for Excellence in Suicide Prevention located at the Canandaigua VA Medical Center in N.Y. Since that time patient safety and mental health staff have worked together to use the checklist to identify and abate suicide hazards on mental health unit every six months – over 15,000 individual hazards that could have resulted in a Veteran suicide have been fixed! We have also moved to a web-based, data-collection system using the Patient Safety Assessment Tool (PSAT). The PSAT is a web-based tool that can be accessed by anyone in VHA. Every six months we load an updated MHEOCC onto the PSAT where staff can use it to conduct their bi-yearly safety inspections.
VA NCPS continues to monitor RCA reports of suicide attempts and completions on inpatient mental health units in VHA and have found that hanging continues to be the most commonly reported method for inpatient suicide, and doors, especially interior doors, are the most common anchor points. In addition, sheets and bedding continue to be the most common type of lanyard for hanging. In a systematic review of suicide by hanging, Gunnell et al7 report that 50 percent of all hanging suicides have a ligature point below the head so it is important to identify anchor points both above and below the head and even those relatively close to the floor. Nevertheless, since the MHEOCC was deployed we have seen a significant decrease in the number of suicides on mental health units; and we have also realized a significant decrease in the rate of inpatient suicides on mental health units (see Figure 1).8 Thanks to the hard work of patient safety and mental health staff in VA, inpatient suicide on psychiatry units in VA continues to be extremely rare. As we move into the future, we will continue to look at the results of the MHEOCC and make recommendations for improvements in mental health units nationally. NCPS continues to modify and add questions to the MHEOCC based on reports from the field of hazards or adverse events encountered at the local level. In this way we can use local reports to inform the VHA system nationally and make care safer for all Veterans using our system.
return to top